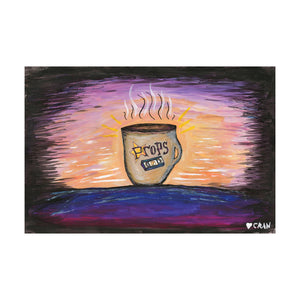 PROPS VISUAL
Props VHS & Coffee Poster 36x24" by Steve Crandall
Regular price
$46.00
$0.00
Props VHS & Coffee Poster 36x24"
From Propsbmx.com:
In December 2017, we commissioned Steve Crandall to paint a painting in his coffee cup style, but something with a VHS tape. About a month or so later, a cardboard tube showed up in the mail, and needless to say – the painting was bad ass! Steve's original 30″ x 22″ painting went right into a frame and onto the office wall.
After looking at the painting everyday on the wall since then, we thought OG Props fans might enjoy a copy of Steve's artwork for themselves. So it came out of the frame where it has been preserved for the last 5 years, was scanned at @ 600dpi in 8 slices, and the slices were combined into a single high resolution image of the painting.
After deciding on a size to offer, we went with a large 36″ x 24″ poster print, which is actually larger than the original painting itself. They're huge!
Only a couple hundred copies were made, printed on high quality 100lb gloss poster paper. The prints look simply amazing, faithful reproductions showing all the fine details of the brush strokes, vibrant ink colours etc. Grab one today before they are gone!
TERMS & Shipping Information:
When you order from EntityBMX.com, you'll receive order notification via email.
Upon receiving your order we'll endeavour to package and dispatch your order within 1 working day.
Full tracking information of your order will be sent to you via email, when applicable.
Thank you, Entity BMX Shop.
---
More from this collection