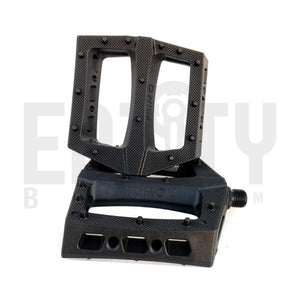 Primo BMX
Primo BMX Turbo Pedals / Black
Regular price
£22.99
£0.00
Primo BMX Turbo Pedals / Black
Designed by Connor Keating, the Primo Turbo pedal body extends over the exposed axle to reduce the space between crank arm and pedal.
These are great for catching whips clean and locking in pedal slides.
Using a 6mm Allen key, the pedals are installed from the back of the crank arm.

Features:
Plastic composite body
Chromoly spindle with serviceable loose ball bearings
Extended body covers axle for a flush look and added functionality
Fully knurled surface with moulded pins for max grip
9/16 size for 3pc cranks
TERMS & Shipping Information:
When you order from EntityBMX.com, you'll receive order notification via email.
Upon receiving your order we'll endeavour to package and dispatch your order within 1 working day.
Full tracking information of your order will be sent to you via email, when applicable.
Thank you, Entity BMX Shop.
---
More from this collection