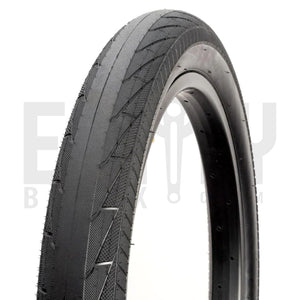 Fiction Bikes
Fiction Bikes BMX Hydra 2.4 HP Tyre / Black
Regular price
£24.99
£0.00
Fiction Bikes BMX Hydra 2.4 HP Tyre / Black
FEATURES: The new HYDRA tire uses "SPARK" technology, is new Electro Discharge Machined Traction System on the centre strip offering unrivalled traction with low rolling resistance and makes these tires super squeeeeaaky!. We use two different file patterns on the tires edges to provide traction so you can lay the hammer down.
20 x 2.40" HP
INFLATED WIDTH: 2.4" (61mm)
INFLATED DIAMETER: 20.9" (531mm)
MAX PRESSURE: HP: 80-110 psi
COLOUR: Black
WEIGHT: 23.4 oz each
Sold Individually

TERMS & Shipping Information:
When you order from EntityBMX.com, you'll receive order notification via email.
Upon receiving your order we'll endeavour to package and dispatch your order within 1 working day.
Full tracking information of your order will be sent to you via email, when applicable.
Thank you, Entity BMX Shop.
---
More from this collection