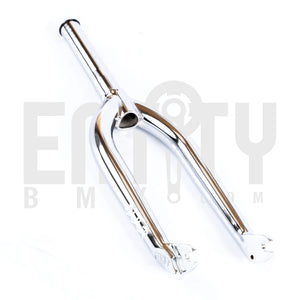 CULT
Cult IC Sect V4 18" Inch Forks / 18mm Rake / Chrome
Regular price
£179.99
£0.00
Cult IC Sect V4 18" Inch Forks / 18mm Rake / Chrome
These forks are designed specifically for use with BMX bikes with an 18" wheel size.

The Cult IC Sect V4 forks are made from Cult Classic 4130 Chromoly tubing. The "IC" is an abbreviation for Investment Cast, this refers to the end section of the fork leg and dropout. By using an investment cast manufacturing technique Cult are able to create a stronger fork than the traditional method of having a laser cut dropout plate welded onto the fork leg. The design of the IC dropout also allows the bottom of the fork leg to be slimmed down to give additional clearance when grinding. The steerer tube is machined from one piece of chromoly tubing with an integrated headset bearing race. The varying thicknesses of the steerer tube give the fork greater strength where it's required. After assembly and welding the fork is heat treated which helps to make this one of the strongest forks available.
This fork has a 18mm rake or offset. This refers to the distance between the centre line of the fork leg and the centre point of the front axle. The shorter the rake or offset the quicker the front wheel will turn, a shorter rake will also make front end tricks such as nose manuals feel easier. A longer fork rake will give the bike a more relaxed and stable feel. Typically fork rakes range from approximately 15mm to around 32mm.
These forks allow for ample tyre clearance for 2.4" tyres and smaller.
The Cult IC forks are also covered by the Cult Lifetime Warranty.
TERMS & Shipping Information:
When you order from EntityBMX.com, you'll receive order notification via email.
Upon receiving your order we'll endeavour to package and dispatch your order within 1 working day.
Full tracking information of your order will be sent to you via email, when applicable.
Thank you, Entity BMX Shop.
---
More from this collection