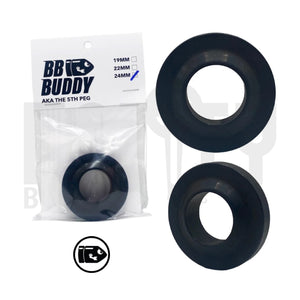 Buddy Mfg
Buddy Mfg BB Buddy
Regular price
$33.00
$0.00
Buddy Mfg BB Buddy
Grind the f**k into your frame?
Whilst grinding on the BB shell of your frame is cool as shit, they're not designed for grinding. The BB Buddy is a replacement non-drive bottom bracket spacer made for abuse and will give your frame some added protection.
Sitting at a slightly bigger diameter than your bottom bracket shell and made out of post heat treated 4140 (the same stuff as a decent metal peg); this glorified washer will slide kewl guy grinds faster and lock in Derek Dusters better, ensuring your BB bearings won't melt to dust.
You know, kinda like a fifth peg...
For the streetest
- 4140 post heat treated chromoly
- CNC Machined by an ageing BMXer in post-Brexit Britain
- Available in 19mm, 22mm and 24mm in black only
TERMS & Shipping Information:

When you order from EntityBMX.com, you'll receive order notification via email.
Upon receiving your order we'll endeavour to package and dispatch your order within 1 working day.
Full tracking information of your order will be sent to you via email, when applicable.
Thank you, Entity BMX Shop.
---
More from this collection